Posts for: January, 2019
What's your favorite winter sport? For some, it's all about swooshing down a snowy trail on skis, a board, or a sled. For others, the main attraction is skating at an ice rink or a frozen pond. If you're more of an indoors athlete, you may enjoy a fast-moving game of basketball or a round of squash. Or, you might take a turn on a climbing wall or a trampoline.
What do all these activities have in common? They're fun, they're great exercise…and they all come with a risk of injury to your teeth.
It's easy to see how a collision on snow or ice could result in a blow to the mouth. But did you know that basketball (along with hockey) is among the sports with the highest risk of facial injury? What's more, many "non-contact" sports actually have a similar risk.
Located front and center in the face, the incisors (front teeth) are the ones most likely to sustain injury. Unfortunately, they are also the most visible teeth in your smile. With all of the advances in modern dentistry, it's possible to restore or replace damaged teeth in almost any situation—but the cost can be high, both for present restoration and future preservation. Is there a better alternative?
Yes! It isn't sitting at home—it's wearing a custom-made mouthguard when there's a risk of facial injury.
Most people don't ski or play hockey without protective gear like a helmet. A mouthguard can effectively protect against dental injury that might otherwise be serious. Available here at the dental office, a custom mouthguard is made from an exact model of your own teeth, so it's comfortable to wear and fits perfectly—but no safety equipment can work if you don't use it!
So whether you like to hit the trails or the gym this winter, don't forget to bring a custom-made mouthguard. It's a small piece of gear that can save you from a big headache!
If you would like more information on mouthguards, please contact us or schedule a consultation. You can learn more by reading the Dear Doctor magazine articles "Athletic Mouthguards" and "An Introduction to Sports Injuries & Dentistry."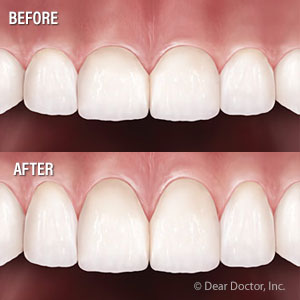 While tooth decay is a potential problem at any age, the risk increases as you grow older. Not only are senior adults more susceptible, decay is often more difficult to treat. That's because cavities can occur at or below the gum line, often due to gum recession.
If that's the case, we won't be able to fill the cavity in the usual way because the gum tissue is in the way. To make it possible to treat, we may need to perform a minor surgical procedure known as crown lengthening.
As the name implies, the procedure helps expose more of the crown, the tooth's visible part, from the surrounding gum tissue. In basic terms, we're repositioning the gum tissue away from the biting surface of a tooth to make room for a filling. It's also useful for improving a tooth's appearance by making it look longer, or creating room for a crown or other dental restoration.
After applying a local anesthesia, the dentist (or periodontist, a specialist in the gums) creates a tiny flap of gum tissue with a series of incisions. This allows the dentist to move the affected gums out of the way to access the underlying bone. The dentist then reshapes the bone to adequately support the gum tissue when it's finally repositioned to expose the crown. In its new and improved position, the dentist sutures the gum tissue in place.
For a few days afterward, the patient will need to restrict their diet to soft foods, avoid strenuous activities and apply an ice pack to help reduce swelling the day of surgery. They will also prescribe a pain reliever and possibly an antibiotic to reduce the chances of infection.
While most people return to normal activities a few days later, you'll usually have to wait a few weeks for the gums to heal before undergoing any further treatments for the affected teeth. But even with the wait, crown lengthening could make it possible to not only save your tooth but improve your smile as well.
If you would like more information on treating tooth decay, please contact us or schedule an appointment for a consultation. You can also learn more about this topic by reading the Dear Doctor magazine article "Crown Lengthening: This Common Surgical Procedure Restores Function and Improves Appearance."