Posts for tag: oral health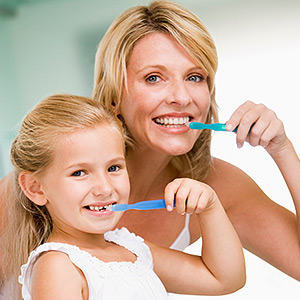 Between infancy and the onset of puberty, your child will grow one set of teeth, lose it and grow another; their jaw structure will also change dramatically. This rapid development sets the course for their oral health later in life.
That's why it's so important to care for their teeth and gums in these early stages through daily hygiene and regular dental visits for disease prevention and treatment. Hygiene is the cornerstone of this care, and should begin in earnest when your child's first tooth erupts in the gums, by first gently cleaning around the newly erupted teeth and gums after each feeding with a water-soaked gauze pad.
As they pass their first birthday you can switch to a small, soft-bristled toothbrush and just a smear of fluoridated toothpaste. Children should begin learning to brush around age 2, first by modeling you as you brush together. They should be adept enough by age 6 to brush on their own, at which time you can introduce flossing. We're more than happy to advise you on technique for both of these hygiene tasks.
Age one is also the time for them to begin regular dental visits for cleanings and checkups. This will help us stay ahead of any developing decay or other issues and perform preventive treatments like dental sealants or fluoride applications. It will also help your child become comfortable with the dental office, which can make it easier for them to develop a long-term habit of regular dental care.
There are also habits you should practice (or avoid) that support good oral health for your child. For example, you shouldn't allow them to sleep with a pacifier or a bottle filled with anything but water. Breast milk and formula contain some forms of sugar that bacteria can feed on; if this becomes too frequent it can result in higher acid levels that soften enamel and lead to decay. You should also take preventive actions to protect your child from teeth-damaging injuries like playing too close to hard furniture.
All these common sense measures support your child's oral development. You can then let Nature takes its course as your child develops a healthy mouth for a lifetime.
If you would like more information on oral care for children, please contact us or schedule an appointment for a consultation. You can also learn more about this topic by reading the Dear Doctor magazine article "Top 10 Oral Health Tips for Children."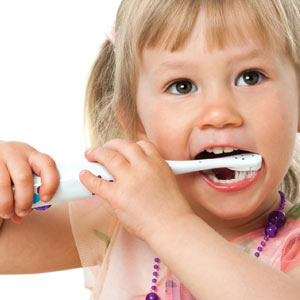 Like many other families, you may use formula instead of breast milk as a safe and healthy alternative to feed your infant. But, if you use a powdered form that you mix with water your child may be taking in more fluoride than they require.
Fluoride is a natural chemical that can strengthen tooth enamel and help prevent decay. After decades of study it's also been shown to pose no serious health risks. Because of fluoride's benefits and safety, many water utilities add tiny amounts to their drinking water supply.
But it can have one side effect called enamel fluorosis. If a child ingests too much fluoride during early development it can cause discoloring mottled spots or streaking in permanent teeth. Although it doesn't affect their health, the teeth can be unattractive and require cosmetic attention.
That's why it's best to keep fluoride consumption to a healthy minimum for children. That, however, is often easier said than done, since we can encounter hidden fluoride in a variety of places. Besides hygiene products and fluoridated drinking water, you may find fluoride in prepared juices and other beverages, bottled water or in foods processed with fluoridated water. There are no labeling requirements for fluoride, so you'll have to research to find out if a product contains fluoride.
There are, however, some things you can do to control your child's fluoride intake. First, know as much as you can about known sources your child may encounter like your water supply. You can find out if your utility adds fluoride and by how much by contacting them or visiting My Water's Fluoride online at https://nccd.cdc.gov/DOH_MWF/.
If you use fluoride toothpaste apply only a "smear" on the end of the brush for children under two and a pea-sized amount for older children. If you have fluoridated drinking water, consider breastfeeding your infant, use ready-to-feed formula or mix powdered formula with bottled water labeled "de-ionized," "purified," "demineralized" or "distilled."
And, do feel free to discuss your concerns with us during your child's regular checkup. We'll help you adjust their diet, water intake and hygiene habits to be sure they're receiving the right amount they need for developing strong teeth — and no more.
If you would like more information on appropriate fluoride levels for children, please contact us or schedule an appointment for a consultation. You can also learn more about this topic by reading the Dear Doctor magazine article "Tooth Development and Infant Formula."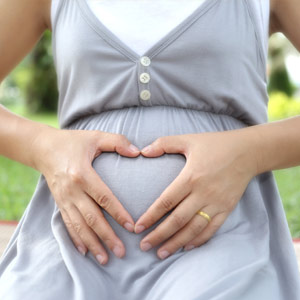 If you're pregnant, you may find yourself pondering decisions you didn't have to think about before. Should you have that glass of wine… or skip it, because of the alcohol; go for the sushi… or avoid uncooked foods; take the pain reliever… or live with the headache. And if you have a toothache — or even if you're overdue for a checkup and a cleaning — you may also be wondering whether having dental treatment (especially treatment that might involve local anesthetics) is safe for you and your developing baby.
Fortunately, a study that recently appeared in the Journal of the American Dental Association (JADA) should let expectant moms breathe a little easier. The research concludes that it's safe for pregnant women to undergo dental treatment, including procedures that use local anesthetics.
And that's good news indeed, because while maintaining good oral health during pregnancy is critical for the developing baby, many expectant moms experience problems during this period.  Some common issues include a higher risk of tooth decay due to increased carbohydrate consumption, and sore or bleeding gums from a condition called pregnancy gingivitis.
According to the study's lead author, Aharon Hagai, D.M.D., "[Pregnancy] is a crucial period of time in a woman's life, and maintaining oral health is directly related to good overall health." Yet, as Dr. Hagai notes, pregnant women sometimes avoid the dentist even if they have a problem. So his team set out to determine whether having dental treatment with anesthesia affected the outcome of pregnancies. They compared a total of 1,004 women, some of whom had dental treatment with local anesthesia, and some who did not.
The research showed there was no significant difference between the two groups. This applied in terms of both major medical problems (such as cleft palate, heart defects or cerebral palsy) and other issues, including low birth weight and preterm delivery. Dr. Hagai summed it up this way: "We aimed to determine if there was a significant risk associated with dental treatment with anesthesia and pregnancy outcomes. We did not find any."
So if you're pregnant, there's one less thing to worry about. Go ahead and schedule your routine dental check up — and remember that it is particularly important to have cleanings during pregnancy. Â If you experience changes in your oral health, don't hesitate to come in for an office visit and cleaning; that way, you can make sure your hormonal changes are not playing havoc with your gums. There is an old saying in some cultures that for every child a woman has, she loses a tooth. Don't let that happen to you.
If you have questions about oral health and pregnancy, please call our office to schedule a consultation. You can read more in the Dear Doctor magazine article "Expectant Mothers: Dental facts you need to know" and "Pregnancy and Oral Health."