Posts for tag: orthodontics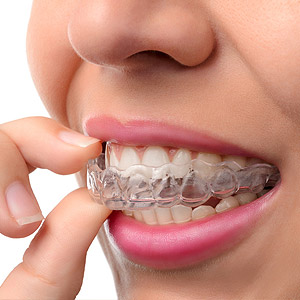 Your teenager is about to take a big step toward better health and a more attractive appearance — orthodontic treatment. You both know the benefits: better chewing function, lower risk of dental disease, and, of course, a straighter and more beautiful smile.
But your teen might also dread the next couple of years of wearing braces. And it's hard to blame them: although they're effective, wearing braces restricts eating certain snacks and foods, they require extra time and effort for brushing and flossing, and they're often uncomfortable to wear. And of high importance to a teenager, they may feel embarrassed to wear them.
But over the last couple of decades a braces alternative has emerged: clear aligners. This form of bite correction requires fewer food restrictions, allows greater ease in hygiene, and is considered more attractive than braces. In fact, most observers won't notice them when a wearer smiles.
Clear aligners are a series of clear plastic trays created by computer that are worn in a certain sequence. During wear each tray exerts pressure on the teeth to gradually move them in the desired direction. The patient wears a single tray for two weeks and then changes to the next tray in the sequence, which will be slightly different than the previous tray. At the end of the process, the teeth will have been moved to their new positions.
Clear aligners aren't appropriate for all bite problems. When they are, though, they offer a couple of advantages over braces. Unlike braces, a wearer can remove the aligner to brush and floss their teeth or for rare, special or important social occasions. And, of course, their appearance makes them less likely to cause embarrassment while wearing them.
In recent years, design improvements have increased the kinds of bites aligners can be used to correct. For example, they now often include "power ridges," tiny features that precisely control the amount and direction of pressure applied to the teeth. They've also become thinner and more comfortable to wear.
If you're interested in clear aligners as a treatment option, talk with your orthodontist about whether your teen is a good candidate. If so, they could make orthodontic treatment for achieving a more attractive and healthy smile less of an ordeal.
If you would like more information on clear aligners as an orthodontic option, please contact us or schedule an appointment for a consultation. You can also learn more about this topic by reading the Dear Doctor magazine article "Clear Aligners for Teens."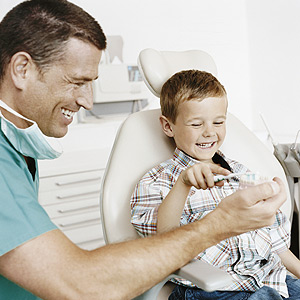 Our bodies are constantly changing as we age. Although the most rapid development occurs during childhood and adolescence, our bones, soft tissue and bodily systems will continue to change, even as we enter old age.
That includes our mouth and facial structures. Over time change will result in a flatter facial profile: this will cause the nose to gain more prominence as the lower part of our face becomes shorter. The extent of our lip movement can also change with time, resulting in less of our teeth appearing when we smile. The teeth themselves will also wear, which can make them appear shorter.
These and other aging consequences should be taken into account in our dental care. We should consider their impact on the health and function of our teeth (the therapeutic aspect) and our appearance (the cosmetic aspect). Rather than less attention, the effects of aging often require a multi-layered approach to care. The foundation for this care, of course, isn't laid when we reach our middle or later years, but with the regular and special treatments we receive when we're young.
For example, the best time to address teeth alignment and bite is usually during early adolescence. Orthodontic treatment will certainly improve dental function and smile appearance in the short term; but improving the bite can also have implications later in life. By anticipating how the soft tissue and bone structure within the face and jaws will continue to develop, we can better determine the final teeth position we wish to achieve. This creates satisfying results in the present and a more stable platform for oral health in the future.
We can apply the same approach to other areas, like the position of the lower jaw. Using orthognathic surgery to reposition it will benefit jaw development throughout adulthood. Making these improvements can diminish the effects of aging later in life.
In essence, dental care is a life-long endeavor that begins when we're very young and continues into our senior years. Properly caring for your teeth at any age is the key to enjoying good oral health for your entire life.
If you would like more information on the effects of aging on dental health, please contact us or schedule an appointment for a consultation. You can also learn more about this topic by reading the Dear Doctor magazine article "Understanding Aging Makes Beauty Timeless."
Fans of the primetime TV show The Middle were delighted to see that high school senior Sue, played by Eden Sher, finally got her braces off at the start of Season 6. But since this popular sitcom wouldn't be complete without some slapstick comedy, this happy event is not without its trials and tribulations: The episode ends with Sue's whole family diving into a dumpster in search of the teen's lost retainer. Sue finds it in the garbage and immediately pops it in her mouth. But wait — it doesn't fit, it's not even hers!
If you think this scenario is far-fetched, guess again. OK, maybe the part about Sue not washing the retainer upon reclaiming it was just a gag (literally and figuratively), but lost retainers are all too common. Unfortunately, they're also expensive to replace — so they need to be handled with care. What's the best way to do that? Retainers should be brushed daily with a soft toothbrush and liquid soap (dish soap works well), and then placed immediately back in your mouth or into the case that came with the retainer. When you are eating a meal at a restaurant, do not wrap your retainer in a napkin and leave it on the table — this is a great way to lose it! Instead, take the case with you, and keep the retainer in it while you're eating. When you get home, brush your teeth and then put the retainer back in your mouth.
If you do lose your retainer though, let us know right away. Retention is the last step of your orthodontic treatment, and it's extremely important. You've worked hard to get a beautiful smile, and no one wants to see that effort wasted. Yet if you neglect to wear your retainer as instructed, your teeth are likely to shift out of position. Why does this happen?
As you've seen firsthand, teeth aren't rigidly fixed in the jaw — they can be moved in response to light and continuous force. That's what orthodontic appliances do: apply the right amount of force in a carefully controlled manner. But there are other forces at work on your teeth that can move them in less predictable ways. For example, normal biting and chewing can, over time, cause your teeth to shift position. To get teeth to stay where they've been moved orthodontically, new bone needs to form around them and anchor them where they are. That will happen over time, but only if they are held in place with a retainer. That's why it is so important to wear yours as directed — and notify us immediately if it gets lost.
And if ever you do have to dig your retainer out of a dumpster… be sure to wash it before putting in in your mouth!
If you would like more information on retainers, please contact us or schedule an appointment for a consultation. You can learn more in the Dear Doctor magazine articles "The Importance of Orthodontic Retainers" and "Why Orthodontic Retainers?"