Posts for: November, 2019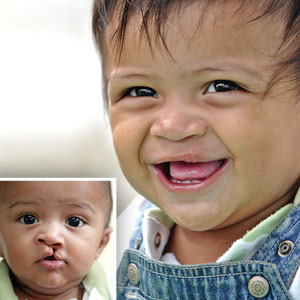 One of the most common and anguish-filled birth defects is a cleft lip or palate (roof of the mouth). Not only do clefts disrupt the normality of a child's facial appearance, they can also lead to problems with chewing, speech and the long-term health of teeth and gums.
A cleft is a tissue gap that occurs during fetal development, usually in the first trimester, in which parts of the baby's face fail to unite. Why this occurs is not fully understood, but vitamin imbalances in the mother, exposure to radiation or other toxic environments, or infections are all believed to play a role.
Facial clefts are classified as either incomplete, in which there is some but not full tissue fusion, or complete, with no fusion at all. A cleft can be unilateral, affecting only one side of the face, or bi-lateral, affecting both sides. During infancy a cleft can adversely affect a child's ability to nurse, and it sometimes disrupts breathing. As the child grows, speech patterns may be severely disrupted and their teeth and bite may not develop properly.
Fortunately, there have been dramatic advances in cleft repair over the past sixty years. It's actually a process that can span a child's entire developmental years and involve the expertise of a number of surgical and dental specialists. For a cleft lip, the initial surgical repair to realign and join the separated tissues usually occurs around three to six months of age; repair of a cleft palate (where the gap extends into the roof of the mouth) between 6 and 12 months.
Subsequent procedures may be needed in later years to refine earlier results and to accommodate the mouth's continuing growth. At some point the treatment focus shifts to cosmetic enhancement (which can include implants, crown or bridgework) and periodontal health, to ensure gum tissues that support teeth and gums aren't compromised by the effects of the cleft or its treatment.
At the end of this long process, something of a miracle may seem to occur: a young person's once disfigured mouth transforms into a beautiful smile. It's a chance for them to gain a normal life — and a new lease on physical, emotional and oral health.
If you would like more information on cleft reconstructive surgery, please contact us or schedule an appointment for a consultation.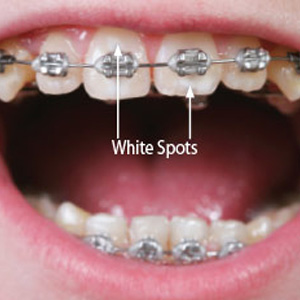 While wearing braces is the path to a healthier and more attractive smile, it can be a difficult journey. One of your biggest challenges will be keeping your teeth clean to avoid a higher risk of tooth decay.
Tooth decay starts with dental plaque, a thin film of bacteria and food particles that accumulates on teeth. Daily brushing and flossing clear this accumulation. But the hardware of braces makes it difficult to access all tooth surfaces, and can even become a haven for plaque.
One sign in particular of tooth decay while wearing braces is the appearance of chalk-like spots on the teeth known as white spot lesions (WSLs). WSLs occur because the minerals in the enamel beneath them have begun to break down in response to decay. The spots can eventually cause both structural and cosmetic problems for a tooth.
The best approach to WSLs is to prevent them from developing in the first place. You'll need to be extra vigilant with daily oral hygiene while wearing braces to reduce plaque buildup. To help with the increased difficulty you might consider using a special toothbrush designed to maneuver more closely around orthodontic hardware. You may also find using a water flosser to be a lot easier than flossing thread.
Preventing tooth decay and WSLs also includes what you eat or drink to reduce the effects of enamel de-mineralization. The bacteria that cause decay thrive on sugar, so limit your intake of sweetened foods and beverages. And to avoid excessive demineralization cut back on acidic foods as well.
If despite your best preventive efforts WSLs still form, we can take steps to minimize any damage. For one, we can give your enamel a boost with fluoride applications or other remineralization substances. We can also inject a tooth-colored resin beneath the surface of a WSL that will make it less noticeable.
With any of these and other treatments, though, the sooner we can treat the WSL the better the outcome. Practicing good hygiene and dietary habits, as well as keeping an eye out for any WSL formations, will do the most to protect your new and improved smile.
If you would like more information on preventing dental disease while wearing braces, please contact us or schedule an appointment for a consultation. You can also learn more about this topic by reading the Dear Doctor magazine article "White Spots on Teeth During Orthodontic Treatment."